Back To Blog
What is an engagement ecosystem and how can agencies use it to learn about users and create services that meet their needs?
What is an engagement ecosystem?
To deliver services that meet community needs, you have to first understand their needs. Ask yourself these questions:
Who are your users (current and potential)?
What are these users trying to do?
How are they trying to do it now?
How do their experiences and job affect what they do and how they do it?
How they use and experience existing services?
How can you meet their needs better?
The better you understand your users, the more likely you are to design and build a service that works well for them.
An engagement ecosystem is a strategy that captures and acts on user research over time. Without it, you won't know what problems to solve, what to build, or if the service you create will work well for your community.
All departments can benefit from an engagement ecosystem, from management to digital teams, communicators, planners and more. Here are six ways to capture and act on user insights to start building your engagement ecosystem.
#1 CSAT
Capture and measure community satisfaction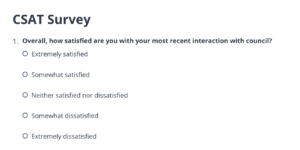 Why it matters. When residents are satisfied with the service they receive, they are nine-times more likely to trust that government. Dissatisfied residents are two-times as likely to reach out for support three or more times and publicly express their dissatisfaction. Satisfied customers, however, are nine-times more likely to agree that an agency delivers on its mission.
How it delivers. Using CSAT surveys allows you to quantify and bench community satisfaction overtime, use the input to inform follow-up actions and measure the impact of key changes.
Source: McKinsey & Company, The global case for customer experience in government
#2 Community Visioning Supplement
Learn about your communities' vision more often

Why it matters. A shared vision leads to a sense of community-wide ownership, which also means less resistance to new services and initiatives.
How it delivers. Adding constant feedback to community visioning helps organisations plan better and involve various community groups.
Source: Granicus, How to Capture Community Aspirations
#3 Workflow Sentiment
Measure workflow performance and success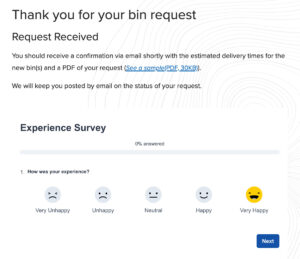 Why it matters. 80% of federal agencies score poor to very poor on delivering seamless digital experiences, which impacts the access and adoption of services.
How it delivers. Measuring workflow sentiment helps to identify operational bottlenecks, reduce economic risks with broader approval and adoption, and allow governments to continuously respond to changing community perspectives and feedback.
Source: Forrester, US Customer Experience Index
#4 Usage and Attitudes
Understand if your audience has what they need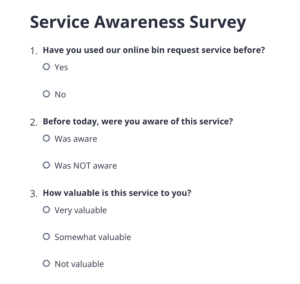 Why it matters. Usage and attitude surveys determine if the community (and its smaller segments) has the information they need to access critical services.
How it delivers. Gathering community usage and sentiment is helpful when directing advertising spends to improve community awareness. This type of data also supports the development of audience segmentation, reach, and targeted messaging.
#5 Promised vs Delivered
Assess if communications efforts are hitting the mark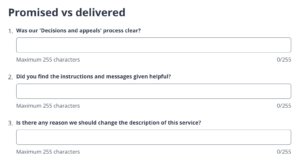 Why it matters. Checking your communications helps to make sure you provide your community with accurate and helpful services.
How it delivers. This assessment provides an opportunity to evaluate the service benefits that were promised, compared against what was delivered to uncover gaps in messaging and targeting for iteration and improvement in the future.
#6 Community Preferences
Create a referenceable repository of community preferences

Why it matters. A database of community preferences can be used to make informed decisions with — not for — the community.
How it delivers. Get a continuous, rich understanding of community preferences that enables confident planning, prioritisation, and milestone development. It also streamlines the population of reports and proposals.
---
💡 Tip – Support the build of your ecosystem with the following EngagementHQ features:
OpenCities & EngagementHQ connector | Display EngagementHQ projects directly on your OpenCities website, including site search and My Area
govDelivery & EngagementHQ integration | Connect topics in govDelivery with their corresponding consultations in EngagementHQ
Engagement Embeds | Embed quick polls and surveys onto your website
Project Finder | Embed a list of projects on your website and allow users to filter and search