Back To Blog
Top 5 GovDelivery Communications Cloud updates in the last 12 months
At Granicus, we're constantly making updates to our solutions to better serve our users. In the past year alone, we've made hundreds of changes so that the over 3,000 organisations using our solutions can continue to change citizens' lives for the better – whether it's by communicating about traffic updates or webcasting a public meeting.
The last year has been particularly active for the GovDelivery Communications Cloud platform, a solution that enables organisations to connect with over 150 million people via email, text message and social media.
With every message being used to directly impact and improve the lives of citizens, Granicus made strategic enhancements to make the experience more user-friendly, secure, and sophisticated for our users' needs.
Here is a recap of the top five updates to the GovDelivery Communications Cloud in the past 12 months:
1. Enhanced overlays
We know from the recent Granicus Benchmark Report that overlays are the most effective way to increase email subscribers quickly. In fact, the median organisation in 2016 saw a 174 per cent increase in their subscribers due to an overlay.
Now, creating and hosting an effective overlay is easier than ever. While prior to the past year, it was possible to create a custom-designed overlay for web properties, due to enhancements organisations can now include data-gathering questions that boost an overlay's success rate in obtaining new subscribers. The overlay's ability to gather more data, combined with its high likelihood of increasing your subscriber count, makes it an efficient tool to know more about your citizens and enhance targeting.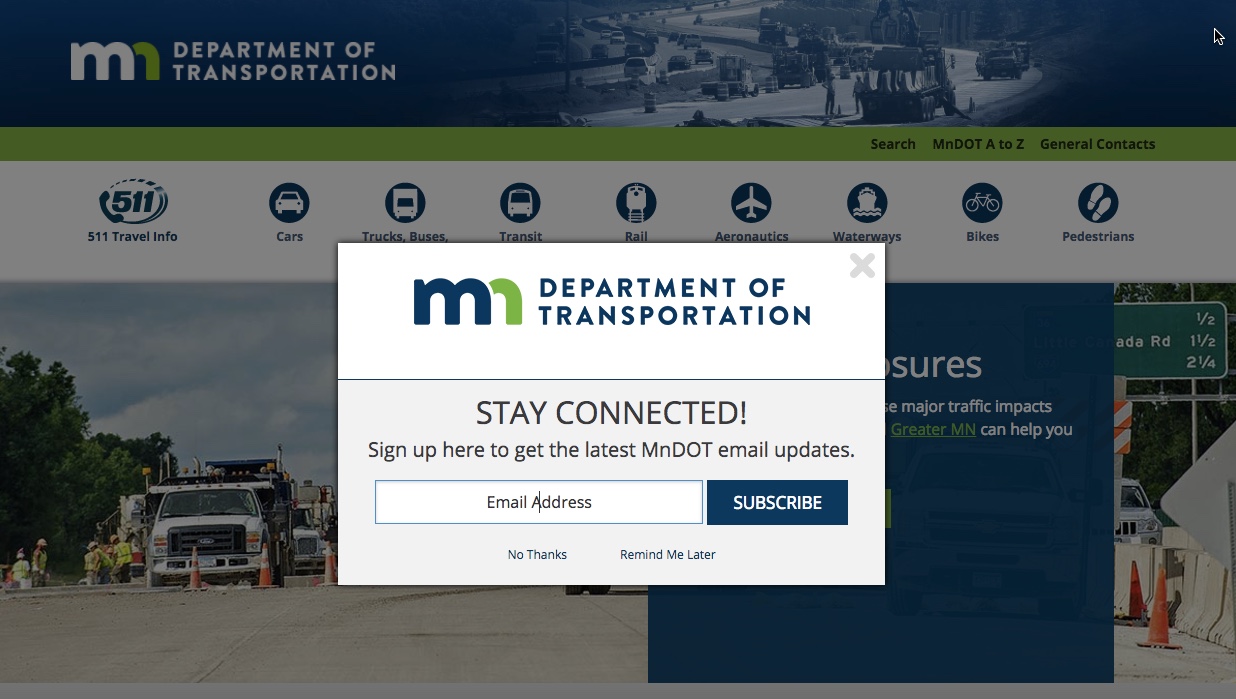 For more information on how overlays work, visit our Understanding Overlays article. To implement an enhanced overlay, talk with your client success consultant (Amish Patel or Lorna Perry, here in the UK).
2. New user experience
For GovDelivery admins, you may have noticed a more user-friendly experience with a new look and enhanced design. The more modern look and feel of the GovDelivery Communications Cloud offers familiar and predictable patterns widely used across the web.
The changes we're making to the GovDelivery Communications Cloud continue this work, and aim to make our tools more intuitive for you and your team. For example, new links now featured at the top of the page help you know where you are, and how to navigate back to previous pages, quickly and easily.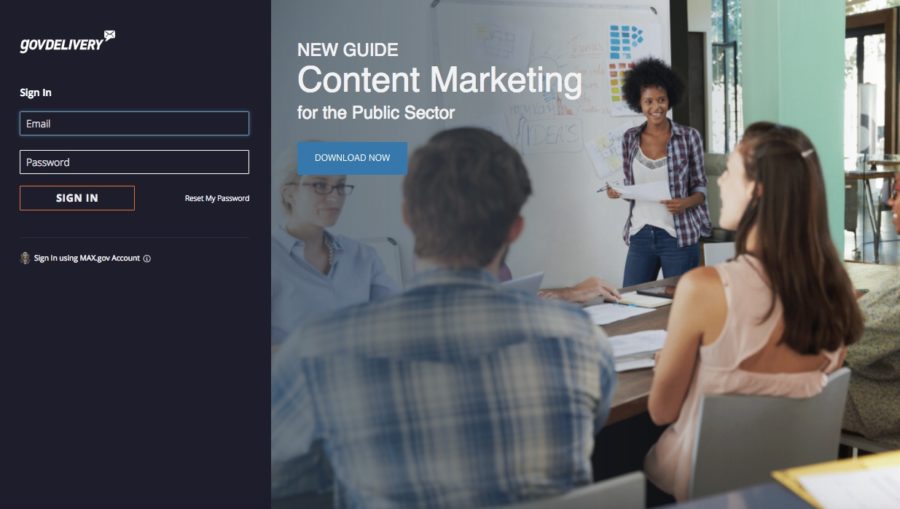 The tool now also features a drop-down menu on the right of the screen, right where you expect it. In the new user experience, users are able to find their personal information, such as role, profile and security settings, and our support site, all in one place.
3. Improved audience targeting and citizen information
Being able to reach your audience is one of the cornerstones of effective communications strategies, so having enhanced tools and tactics for targeting your subscriber lists has become more important than ever.
If your organisation uses an analytics tool, like Google Analytics, to track visitors to your website, you can add link tracking parameters in your GovDelivery bulletins. Prior to this year's changes, you had the ability to use macros to dynamically include information in those parameters specific to the bulletin, subscriber, or your account. Doing so lets you segment your website traffic more granularly. For example, you could use the Bulletin Identifier macro to see which website visitors came from a specific bulletin you sent – telling you how effective your message was, and how it's driving traffic to your website.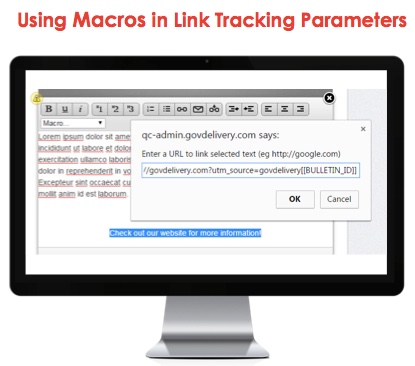 The new capabilities now go even beyond measuring link clicks. For example, you can use macros to identify what pages on your site visitors from a GovDelivery bulletin navigate to. You could also track how many visitors made a purchase on your site or successfully signed up for an event. As content marketing becomes more and more sophisticated, having the right metrics in place to tell you what's working to convert your audience to action is crucial.
Want to learn more? Check out the Tracking GovDelivery Traffic article.
4. Segmenting is easier than ever
We know that monitoring email metrics matters, and that open and click rates are important for telling us how effective our subject lines, headers, content, and calls to action are at capturing our audience's attention.
Prior to this year, users of the GovDelivery Communications Cloud were able to monitor open and click activity for subscribers who received a bulletin.
With new enhancements, users can now see open and click activity for all subscribers, which allows you to send follow-up messages to audiences who did not open or click your message due to inaction or falling outside of the initial targeted segment. These new changes make creating campaigns for segmented lists, whether manual or automated, easier than ever.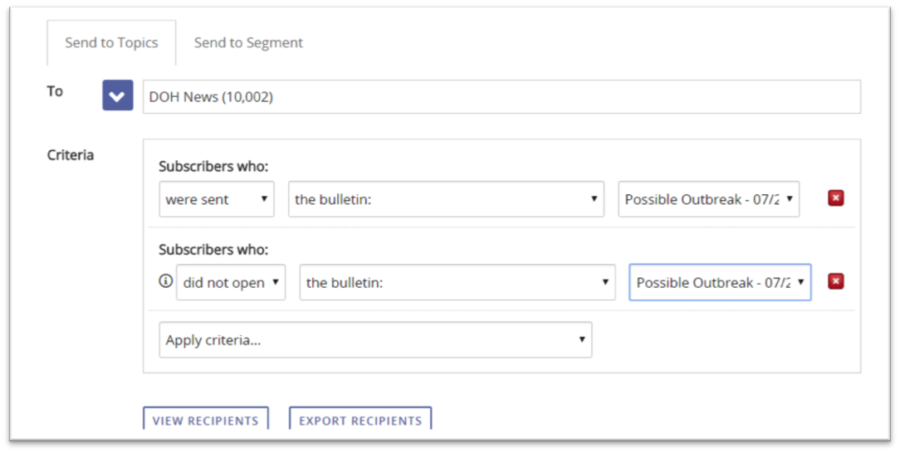 For example, if you filter for subscribers who did not open a bulletin, subscribers who did not receive the bulletin will be included. We made this change so that our filters can be as flexible as possible. If you want to restrict your audience to subscribers who received a bulletin and did not open it, you can do so using two filters.
5. Improved security
As the first (and only) digital communications platform to receive FedRAMP approval (NB: this is relevant to accounts in the US), Granicus takes security very seriously. GovDelivery Communications Cloud users have always had the benefit of restricting login access to a specific list of IP addresses, which protects all information in your account.
While users of the GovDelivery Communications Cloud still have that ability, enhancements have made it possible to restrict access to a list of trusted IP addresses without restricting login to only those addresses. When you choose this option, any login attempt that occurs outside your list of trusted IP addresses is flagged in the Administrator Login History Report. You can use this report to monitor login activity and look for suspicious activity – empowering your control over security threats.
6. Bonus! Launch of the Advanced Package
This past year, Granicus launched the Advanced Package for Communications Cloud, which added streamlined marketing capabilities such as audience segmentation, personalisation, message testing, and mobile engagement. The Advanced Package enables organisations to use pre-built campaigns to increase engagement metrics and deliverability by creating automated touch-points for every subscriber, and enhanced A/B testing capabilities that allow organisations to compare two variables to better optimise a marketing campaign's success. For more information on the Advanced Package, watch this informational video.
At Granicus, we're proud of the changes we've made to the GovDelivery Communications Cloud to enhance the experience for our users. While these are only a small portion of the updates made over the last year, we are seeing great value in their ability to help you – our users – better reach your audiences and connect with citizens.
If you are looking for a more comprehensive list of the changes made to the GovDelivery Communications Cloud, please download this slideshare presentation with more information.